FiOPS – 3G Fiber Optic POV System
Admiral Video has an alternative to dealing with difficult POV systems.
Utilizing the Marshall CV503-WP IP67 weatherproof camera, our FiOPS Fiber Optic POV System improves on every aspect of the traditional low-cost POV Camera. Our integrated system is cost-effective and offers quick and easy setup, camera remote control, and outstanding image quality.
Contact us today to inquire about rental pricing and find out how we can make your POV experience more productive.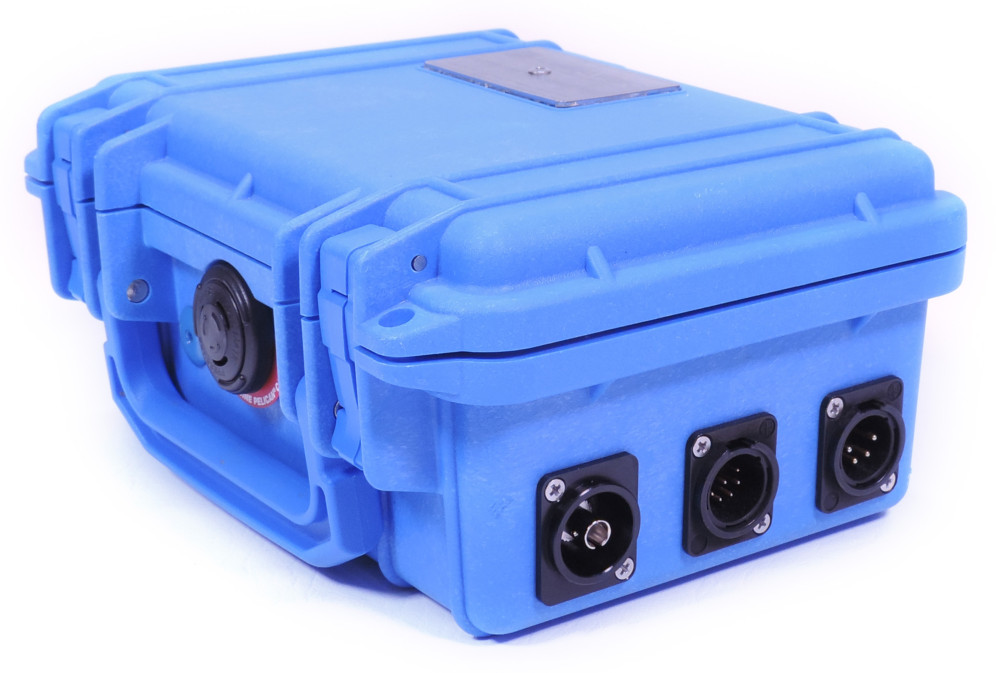 Used on many major network broadcasts, our system is cost-effective and easy to use.
Standard FiOPS 3G equipment and features.

Marshall CV503-WP Camera
The IP67-rated weatherproof camera is submersible in water up to 1m / 3.3ft and offers total protection against dust, dirt, and sand. The camera is switchable between 1920 x 1080p, 1920 x 1080i, and 1280 x 720p and supports frame rates of 60, 59.94, 50, 30, 29.97, 25, 24, 23.98 fps.
Full automatic mode makes for easy setup, while manual exposure and paint controls enable matching with other cameras. Native HD-SDI output directly from the camera and a single cable that exits the rear of the camera with a custom connector to carry power, video, and control signals means no messy cables or HDMI adapters! Built-in picture flip allows for upside-down mounting. 
A wide angle prime lens is standard, but a broad selection of high-quality interchangeable prime lenses – everything from "super-wide" to "tight" – is available on request. The camera is modified from stock configuration to improve reliability and to enable the use of these specialized lenses. Custom parts allow the use of these lenses while maintaining the camera's waterproof seal.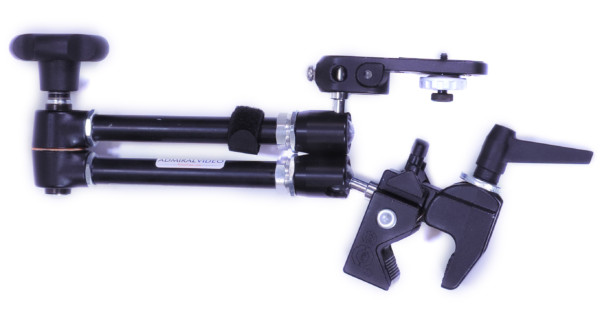 Magic Arm
The Variable Friction Magic Arm with Camera Bracket enables frustration-free fine tuning of the camera position. A Super Clamp enables easy mounting to a wide variety of objects.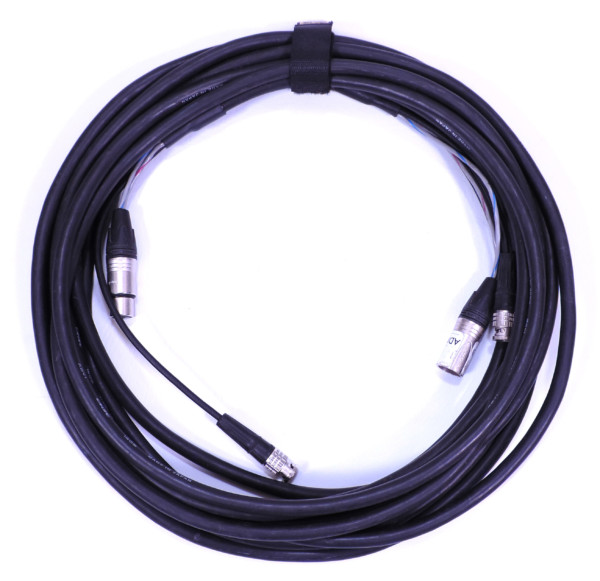 Umbilical Cable
The 30′ Umbilical Cable extends the camera cable to the transmitter and carries power, video, and data in a single rugged yet flexible cable, allowing for clean and unobtrusive installations. Longer umbilicals are optionally available.

Transmitter
The fiber-optic transmitter, integrated into a durable Pelican case, accepts the camera's output from the umbilical cable and doubles as a power supply for the camera.
The transmitter requires just a single strand of single-mode fiber, which carries both video and control data, and is powerful enough to send signals over more than five miles of fiber. It also features a recessed ST connector for durability.
The small external power supply stows inside the top of the transmitter case, making it hard to lose, and signal indicator lights make verifying or troubleshooting connections easy. An option to power the transmitter with a battery is available.

Receiver
Similarly integrated into a Pelican case, the fiber-optic receiver accepts the single ST fiber connection from the transmitter and outputs HD-SDI.
It also features connections for data input to control the camera, data loop output for multi-camera systems, and signal indicator lights.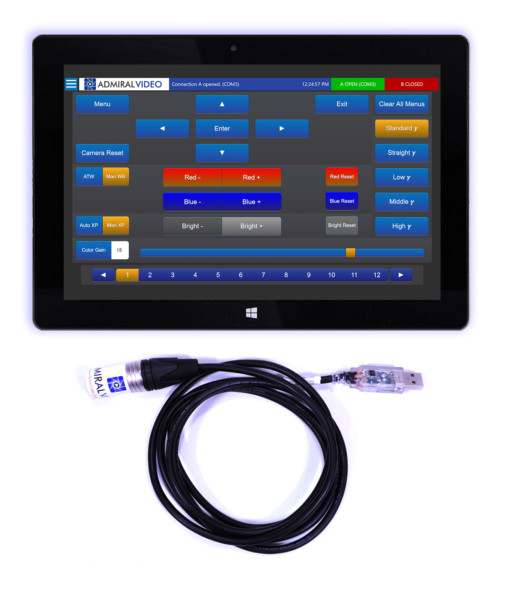 Tablet Controller and Control Cable
Using custom software developed in-house and running on a touchscreen tablet computer, the Tablet Controller provides for remote control of Exposure, White Balance, Color Gain, and Gamma with a simple interface that provides visual feedback without using the camera's OSD menus. The unified interface simplifies multi-camera operation (up to 12 cameras). For tweaking advanced settings, the software also allows access to the camera's OSD menus.
The Control Cable connects to the receiver via a 3-pin XLR connector, so any standard 3-pin XLR cable can be used to extend it, enabling you to place the Tablet Controller in the same location as the rest of your RCPs.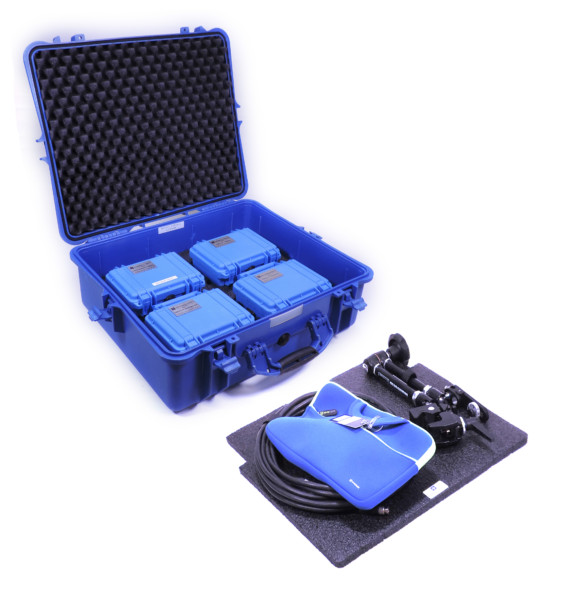 Shipping Case
The "Big Blue Case" stores the Transmitter, Receiver, and two more small cases for the camera and a backup power supply and camera controller, as well as the Umbilical Cable, Magic Arm, and Tablet Controller. Everything you need, in one easy-to-ship package!
Options and additional configurations.
Lens Options
Our broad selection of interchangeable prime lenses range from fisheye-type lenses for artistic looks to non-distortion lenses suitable for shooting talent.
Additionally, optionally available ND and polarizing filters that are field-swappable allow for improved image quality in challenging lighting conditions.
Mounting Options
Where CAN'T you mount a FiOPS?! Our wide range of camera mounts offer the possibility of mounting the camera just about anywhere. We are also happy to develop custom mounting solutions so that you can get exactly the shot you need.
Robo Pan/Tilt System
Our FiOPS Robo kit extends the functionality of any standard robo-enabled FiOPS system by adding a motorized pan/tilt head and a Joystick Remote. It also includes a Control Cable and a Magnetic Ball Head mount.
The FiOPS Robo system allows for remote pan and tilt control of the Head over the same single fiber-optic strand used to send control and video signals to and from the Camera. The Robo Head rotates from -170° to +170° and tilts from -15° to +15°. Two pan and tilt speeds are available,