PylonCam 2.0™ Stadium Installation
Complete solutions for permanent installation.
Now you can "OWN YOUR OWN" PylonCam™ system!
Why wait until a major network decides your game is "big enough" for PylonCam? As the ONLY U.S. patent holder for a wired pylon camera, we are pleased to offer these systems for sale to individual teams, conferences, and leagues. Give us a call and let's discuss the benefits of adding these dynamic and definitive shots to your scoreboard show. The postseason you save might be your own!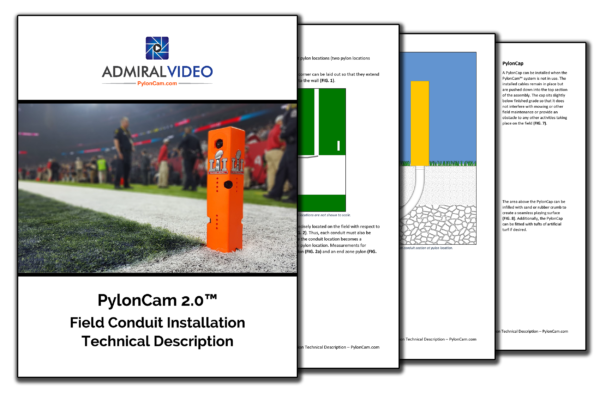 PylonCam 2.0
™

Cameras

Each system includes four pylons with three cameras each (12 total cameras) for full coverage of the goal lines. Systems are typically configured with two additional spare pylons. A second system can be added to cover the rear endzone lines.

PylonCam is designed with safety in mind, with molded high-density, impact-resistant foam encasing the waterproof HD cameras.

Camera placement within the pylon and lens angle of view is selectable depending on your exact requirements.

Field and Stadium Infrastructure
Significant recurring labor savings can be realized with our patented custom conduit system. Conduit is installed in the field from each pylon position to the sidelines, eliminating the need to disturb the playing surface for every game. 
Conduit and Umbilical Cables
Custom conduit sections and components allow for easy setup of PylonCams on game days, while unobtrusively protecting the conduit and playing surface at other times.
PylonSweep and PylonPlug – A custom sweeping conduit section at the pylon location accepts a plug sub-assembly.
SealCap – Allows pass-through of the umbilical cable for game-day operation while still sealing the conduit opening.
PylonCap – Seals the conduit when a PylonCam is not in use. The PylonCap can be covered with sand or artificial turf to provide a level field surface – ideal for multi-purpose fields.
One custom-length PylonCam Umbilical Cable carrying video, power, and data signals with a breakaway PylonCam Connector is installed in each conduit.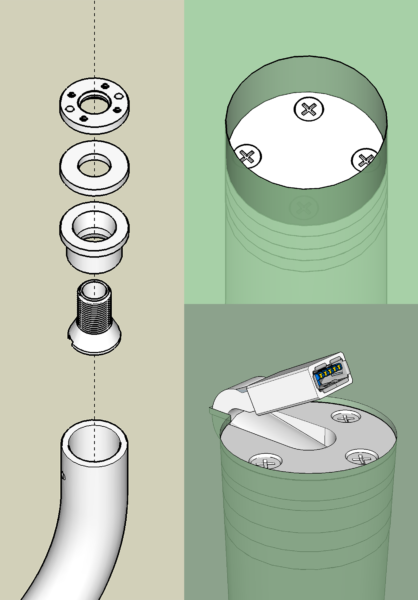 Fiber Transport Equipment
Two options are available for fiber equipment setup. PylonCam CWDM installs in a weatherproof wall-mounted enclosure, and the equipment is left in place permanently. If wall-mounted enclosure installation is not an option in your stadium, PylonCam Portable is available, with equipment integrated into a Pelican case that must be deployed on a per-game basis.
(3) 3G/HD-SDI Video Transmitters – one per camera.
(1) 3G/HD-SDI Video Receiver – return video for monitoring by an on-field technician.
Data for Camera Control.
PylonCam CWDM
Conduit terminates in a customer-supplied wall-mounted enclosure ("JBT" or "wall box"). One box is required at each corner of the field.
Rack mount CWDM fiber-optic transport system for video and camera control signals are installed in the JBT, along with a power supply and control converter for the PylonCam.
(1) Single-Mode Fiber from each JBT to the stadium control room is required.
PylonCam Portable
Conduit terminates aboveground at the field wall.
Multi-fiber transport system, power supply, and control converter are integrated into a Pelican case.
(4) Single-Mode Fibers to the stadium control room are required for each PylonCam.
Control Room Integration
The system's fiber-optic receivers are installed in the stadium control room. 3G/HD-SDI signals from the cameras integrate with your existing frame syncs / color correctors, routers, and replay systems.
To reduce the number of replay system inputs required, a router capable of switching salvos or macros is recommended, allowing the cameras to be switched by end zone.
A software control program provides exposure, paint, and other controls for each camera.
PylonCam CWDM receivers are supplied in rack-mount enclosures and have an Ethernet connection for control, while the receivers for PylonCam Portable can be installed on rack-mount shelving and use a USB/XLR connection for control.
Design Assistance and System Configuration
We are here to help! We will provide installation design requirements to help you prepare your stadium for PylonCam installation, and on-site commissioning at the time of installation.
System Comparison
 

PylonCam CWDM

PylonCam Portable

Patented Corner-Oriented Cameras
YES
YES
Patented Conduit System
YES
YES
Umbilical Cables Remain in Place Between Games
YES
YES
Field Remains Unobstructed for Other Uses
YES
YES
3G/HD-SDI up to 1080p/59.94
YES
YES
Admiral Video Camera Control Software
YES
YES
3G/HD-SDI Return Video to Field
YES
YES
Fibers Required per PylonCam
1
4
Fiber TX Installation (Field)

Permanent;

Wall Box Required

Per-Game Deployment
Fiber RX Installation (Control Room)
Rack Mount (4RU Total)
Shelf Required

Camera Control System Connection to PC

(Control Room)

Ethernet
2x USB

Endzone Back Line PylonCam Option

(Doubles Components)

YES
YES