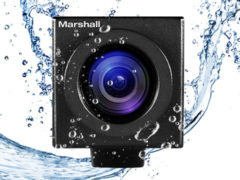 Now available with a waterproof camera!

Admiral Video has an alternative to dealing with the difficulties of using a GoPro® for "Live TV" production.  Based on the Marshall CV502-WPMB camera, this system improves on every aspect of the traditional low-cost POV Camera. Contact us today to see how we can make your POV experience more productive.
Some benefits of our system:
IP67-Rated WATERPROOF Camera – Submersible in water up to 1m / 3.3ft; total protection against dust, dirt, sand.

HD-SDI Output – NO HDMI CONVERTER!

TABLET REMOTE CONTROL – Paint camera without needing to open menus
REMOTELY ACCESS ON SCREEN MENUS – Access advanced functions
1080i/59.94  – 720p/59.94 Switchable
Tough integrated fiber optic transmitter and receiver
Uses ONLY 1 strand of Single mode ST fiber
Powerful transmitter good for over 5 Miles!
Single Supply powers transmitter and camera
30′ Umbilical  – Clean installations on Baskets and Goal Posts
Transmit / Receive signal indicators available for troubleshooting
Improved Magic Arm for mounting
Some features of the Marshall CV502-WPMB camera:
Sony 1/3″ 2.1 Mega Pixel CMOS sensor
Interchangeable Prime Lenses 2.5mm – 5.4mm (comes with 3.7mm)
Paint Control, Chroma Control, Gamma, Exposure
Fully automatic or take control of video in stages
IP67-Rated
Picture Flip – Mount it upside down
Additional options available:
ND and polarizing filters
Custom-length Umbilical Cables
Robotic pan/tilt head with joystick control
Battery-powered Transmitter
Marshall CV505-MB Camera – Includes audio embedder
 GoPro is a trademark of GoPro, Inc.